Looking at Markets/Index's/Commodities
S&P 500          1,578.78    +16.28      +1.04%
DJIA              14,719.50    +152.29     +1.05%
NASDAQ        3,269.33    +35.78      +1.11%
Gold                 1,427.70    +18.90       +1.34%
Crude Oil  $89.75/brl     +0.57        +0.64%
Apple CEO Seeks to Stem Growth Concern by Returning Cash
Apple Inc. (AAPL) Chief Executive Officer Tim Cook is seeking to reassure investors dismayed by the company's falling stock price and first profit drop in a decade by unveiling the largest buyback plan in corporate history.
The tech titan's profit fell 18% last quarter, and its gross profit margin declined by nearly 10 percentage points. Though Apple's earnings fell less than Wall Street analysts expected, its margin came in well below their forecasts. The company's profits decreased due to customers buying more of older and discounted models.
- Bloomberg & CNN Money
Orders for U.S. Durable Goods Decline by Most Since August
Orders for U.S. durable goods fell in March by the most in seven months as demand slumped for commercial aircraft and business investment cooled. Bookings for goods meant to last at least three years decreased 5.7 percent (a 3% drop was expected) after a revised 4.3 percent gain the prior month that was smaller than previously estimated, the Commerce Department reported today in Washington.
Weakness in overseas markets and lower commodities prices have restrained demand , showing manufacturing slowed as the first quarter drew to a close. At the same time, sustained motor vehicle sales and a pickup in the housing market may help keep production from faltering.
- Bloomberg
North America Growth Helps Lift Ford's Profit
Ford Motor Co. reported a 15% increase in its first-quarter profit as a record performance in the company's North American division offset softness in other regions around the world.
The results highlight how Ford's moves in the U.S. over the past 18 months to expand its car portfolio, refresh its F-series pickup-truck line in a recovering economy and rein in incentives are paying off.
The auto maker is scoring with the freshened Fusion and Focus sedans, but it is the F-series pickup that is really bringing in the cash. Ford sold 168,843 pickups during the first three months of the year, an increase of 17% from a year earlier. Each truck on average sells for about $38,625, according to Kelly Blue Book.
- WSJ
FedEx Wins $10.5 Billion Postal Contract as UPS Shut Out
FedEx Corp. (FDX) won a seven-year contract with the U.S. Postal Service valued at about $10.5 billion to carry mail between U.S. airports, fending off a challenge from United Parcel Service Inc. (UPS)
The new accord to fly Express Mail and Priority Mail starts in October once the current deal ends, FedEx said yesterday in a statement. The Memphis, Tennessee-based company didn't give details beyond the value and length of the agreement.
The contract locks in FedEx's business with the Postal Service and erases concern that it would lose some work to UPS as the U.S. mail carrier restructures after years of losses. FedEx has a larger U.S. air network and already has the labor and assets to handle Postal Service volume, most of which is processed during the day after the company's premium overnight packages and documents have been cleared.
- Bloomberg
Falling gas prices could boost economy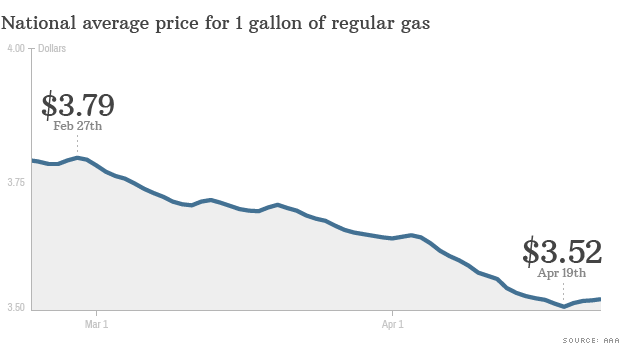 The sharp drop in gas prices over the last month or so could provide America's economy with a much-needed jolt, putting money into consumers' pockets just as the impact of federal spending cuts reverberates through the economy.
If the gas price drop continues — and many expect it will — prices could slip below $3.40 a gallon by summer, according to the research firm Capital Economics.
If prices stay that low, the savings for drivers over the course of a year could top $80 billion. That's $80 billion to spend on other things like clothes, electronics or entertainment.
- CNN Money
VP of Trading Research Special Comment: Don't believe everything you read
AP hack proves Twitter has a serious cybersecurity problem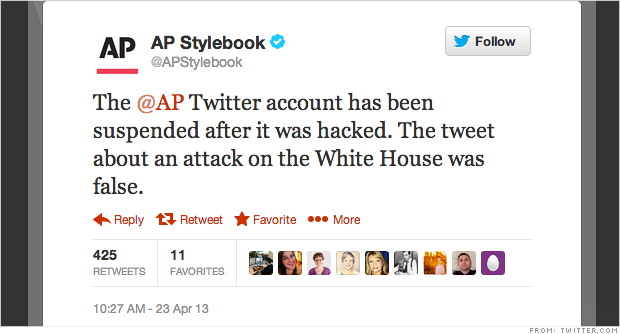 The AP's communications team quickly tweeted from its own account that the main AP Twitter was compromised, but investors had already panicked. The Dow Jones industrial average (INDU) immediately plunged by more than 140 points.
- CNN Money