Looking at Markets/Index's/Commodities
S&P 500          1,597.57    +3.96        +0.25%
DJIA              14,839.80    +21.05      +0.14%
NASDAQ        3,328.79    +21.77      +0.66%
Gold                 1,456.90    -15.20        -1.03%
Crude Oil  $90.97/brl     -2.49        -2.66%
Dow Futures Slip After Jobs Report
Futures for the Dow Jones Industrial Average dipped into negative territory after a reading on U.S. jobless claims came in weaker than expected. Private-sector job growth declined by more than expected in April. Automatic Data Processing ADP and Moody's Analytics reported that 119,000 jobs were created that month, while 155,000 were expected. The ADP report is seen as a preview to the closely watched government employment report due on Friday.
The main event will be the 2 p.m. release of the Fed's policy statement. The Fed is expected to keep monetary policy unchanged, but investors will be examining the statement for clues about when it might begin to pull back its asset-purchase program. (counter opinion about what course of action the Fed will take today below).
-WSJ
Fed Seen Slowing Stimulus With QE Cut by End of This Year
Chairman Ben S. Bernanke will probably reduce the Federal Reserve's monthly bond buying in the fourth quarter to $50 billion from $85 billion as he begins to unwind record stimulus, economists said in a Bloomberg survey.
Policy makers must find a way to slow the pace of purchases enough to signal confidence the economy is strengthening without prompting a sudden rise in interest rates, said former Fed economists Michael Feroli and Joseph LaVorgna. They said that probably means the Fed, which concludes a policy meeting today, will follow a three-step strategy to wind down bond buying.
- Bloomberg
Apple's Record Plunge Into Debt Pool
Apple Inc. AAPL -0.42% sold the largest corporate-bond deal in history Tuesday, a $17 billion offering investors hungrily gobbled up.
Goldman Sachs Group Inc. GS -1.31% and Deutsche Bank AG DBK.XE +6.11% sold the debt for Apple to investors in all corners of the credit markets, from buyers overseas to municipal-bond investors to portfolio managers who typically prefer ultrasafe government debt. Pension funds, insurance companies and hedge funds also joined in the scramble.
Apple was able to borrow the money in six chunks at historically low costs, taking advantage of a sharp decline in Treasury interest rates, which drive the prices of corporate debt.
Investors were also excited to add a new name to their debt portfolios—it was Apple's first bond offer in almost 20 years. There was $52 billion worth of orders for the deal, making it one of the most hotly desired bond deals Wall Street has ever seen, said bankers at Deutsche Bank.
- WSJ
Home price rise continues to pick up speed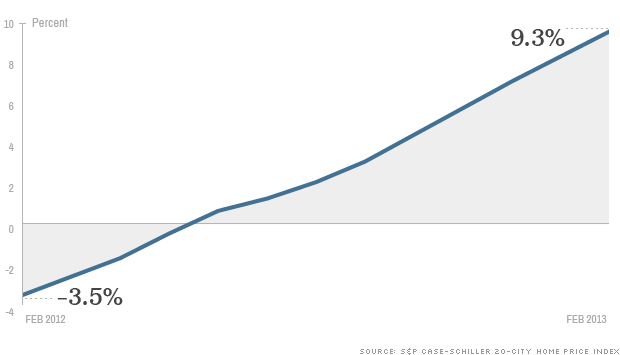 The pace of home price increases continued to accelerate in February, according to a reading Tuesday that showed the biggest gain since near the height of the housing bubble.
The S&P Case-Shiller index of home prices in 20 major markets posted a 9.3% rise over the last 12 months. That's up from the 8.1% rise in January. It was the biggest 12-month gain in the index since May 2006, which was just one month after the index showed record-high home prices.
The index showed a 12-month decline in prices almost every month over a five-year period through May 2012. But every month since then has shown a gain in home prices, and each month's gain has been stronger than the one that came before.
- CNN Money